It is a well-known fact that every superhero has to have a special suit, a cape or a mask to be taken seriously. Right?
At the same time, he or she has to have a certain set of extraordinary skills that often are enhanced by their attire.
Think Batman and his winged cape or his belt which never ceases to produce a McGyver like a gadget to help him escape from a peculiar situation.
What does this all have to do with the sport of swimming though?
Well, what if I were to tell you that you can also have your own superhero gadget which will improve your special swimming skills that you probably didn't even know you had.
Meet the amazing "BluCore Corsuit".
When you put it on, you will be able to improve your swimming body position and reduce your drag which in turn will make you a faster swimmer with lesser effort.
Doesn't that sound wonderful?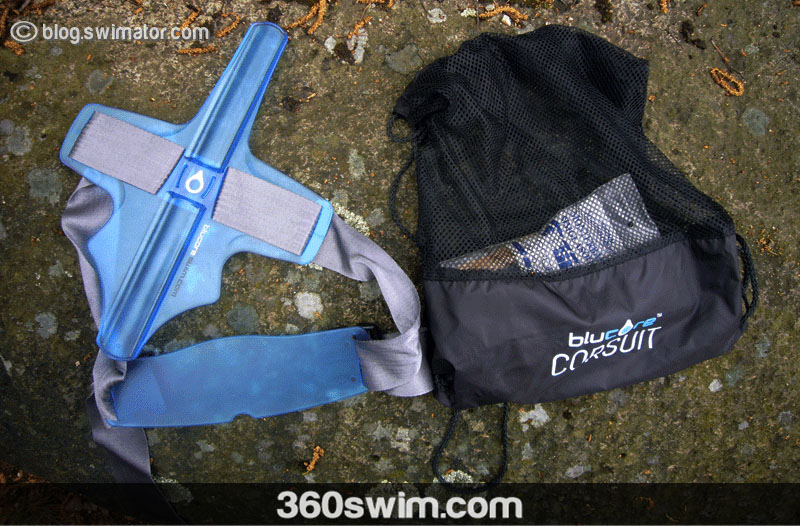 Before I dive into this mysterious superhero swimming costume, let's talk about what it takes to learn to swim.
Learning to swim can be broken down into 5 high-level parts.
Of course, swimming by itself composes of a series of very complex and highly coordinated movements in an environment that humans weren't meant to be in, so there is much more to it then the list of five I mention below.
However, on the way to some sort of swimming ability these basic principles apply.
First, before you attempt anything remotely resembling swimming, you will have to learn to be comfortable in the water. Many of us learn this when we are young, so we usually skip this phase during our adult age and take it for granted.
Second, you should learn how your body balances and behaves in the water in different positions at the same time you learn to kick, so you can actually go somewhere.
Third, you need to learn how to breathe, so your journey is not limited by your ability to hold your breath and you can fully learn how to relax in the water.
The breathing step really accompanies all the steps but wanted to listed here as it is equally important.
Fourth, you will discover how to use your arms as propellers and legs.
Fifth, the most complicated part is to put it all together.
One common theme in all of those phases (maybe not the first one) is the ability to hold your body in a buoyant horizontal position and this is where your superhero Corsuit comes into play.
In simple terms it allows you to get instant feedback on your posture and alignment while you perform one exercise from the never ending list of swimming drills.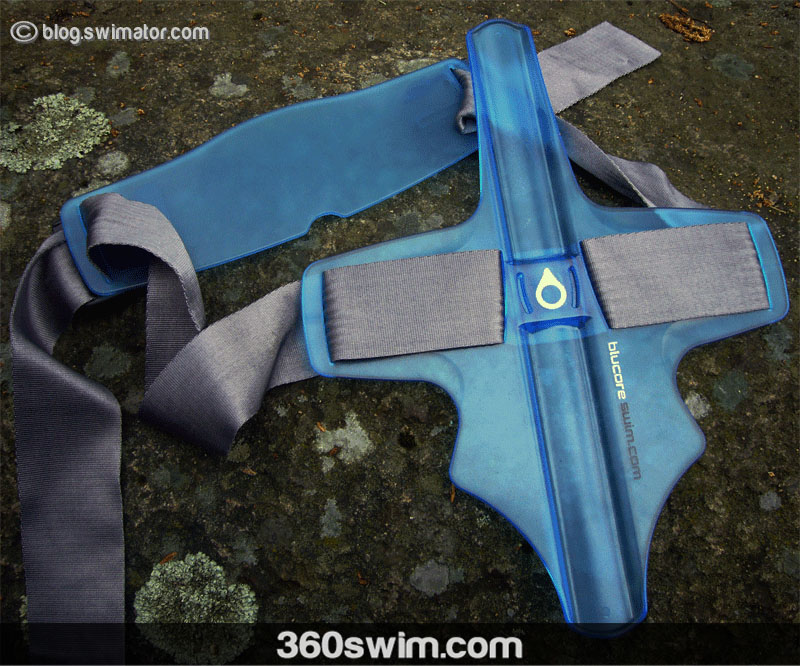 Who should use the Corsuit and how does it work?
If you suffer from sinking legs, the Corsuit allows you to have a tangible surface to press your lower back against to help with leveling you out.
If you swim like a snake from side to side, the long axis of the Corsuit will give you a sensory feeling on your spine that you are not swimming straight.
If you train for short sprint events, you can use the Corsuit for getting constant feedback about your hip position, so you can keep them nice and flat and eliminate your kick losing power to the sides.
If you swim butterfly over the water instead of through the water, in other words, you come up too high, the top end of the Corsuit will give you a bit of a pressure on your spine to help you move your hole body instead of just raising your upper body from the water.
If you are into breaststroke, it helps to limit the arc in your back and improves your up and over motion to keep you focused on the forward movement with your hips high at the surface.
If you swim for fun and are just looking for something new to spice up your workouts, the Corsuit is a wonderful tool for that. It keeps you thinking about your body position and it is something different, so all in all a good fun :).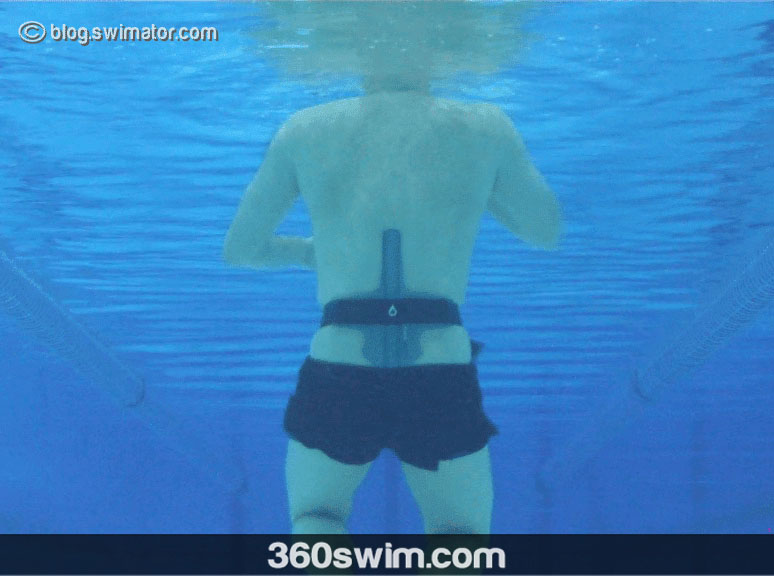 How to put it on?
All you have to do is slip the suit through your legs onto the midsection of your body with the large cross piece on the back and the flat piece on your stomach.
Then snap the buckle, so it is nice and snug and does not move during your swims.
On the bottom of the front piece, there is a small half circle shaped opening which should fit exactly where your belly button is, so it serves as a guideline to how high on your back to put it.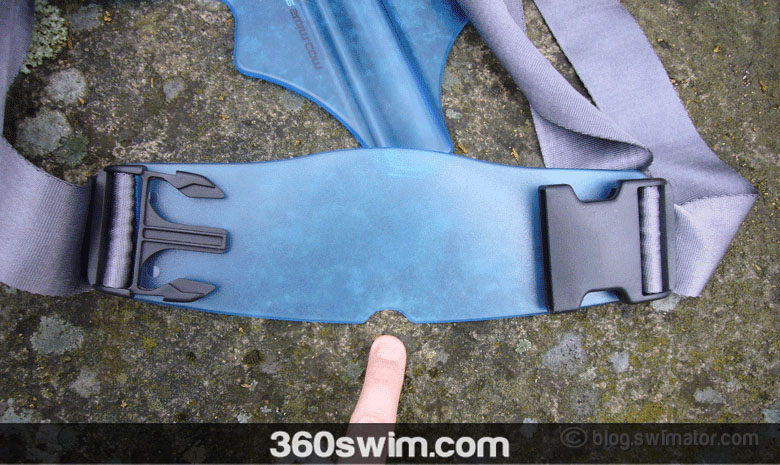 On the backside, there is a spacious ridge into which your spine will fit, so you don't have to worry about the Corsuit hurting your vertebrates.
I've been wearing it for the past six months and have to say that I have not felt any discomfort at all, so well done to the inventor.
I've found that if you have a naturally more curved lower back, you can have it lower on your back to help you with the problem, but as long as you have an initial gap between your lower back and the Corsuit, you are good to go and can strive to make your back flat against it.
My suggestion would be to not spend too much time with the initial fitting of the Corsuit, but adjust it as you see fit during your swims.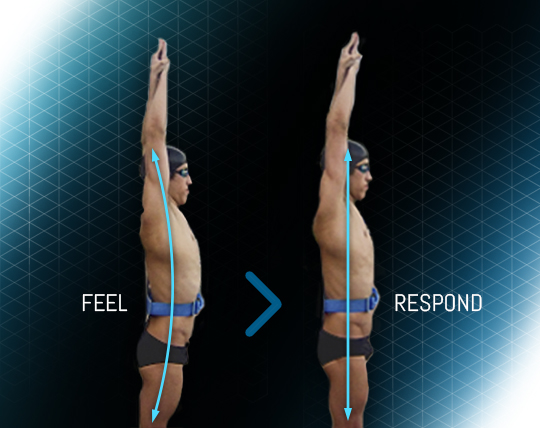 After a while, you will discover the position which brings you the most benefit.
I swim with the suit a few hundred meters at a time, trying to keep my body nicely aligned, then take it off and attempt to mimic the same feeling that I had while wearing it.
Of course, you can keep it on for longer, but I would not recommend it as you do not want to start relying on the suit. It should only serve as a check-up tool to make sure you are doing the right thing.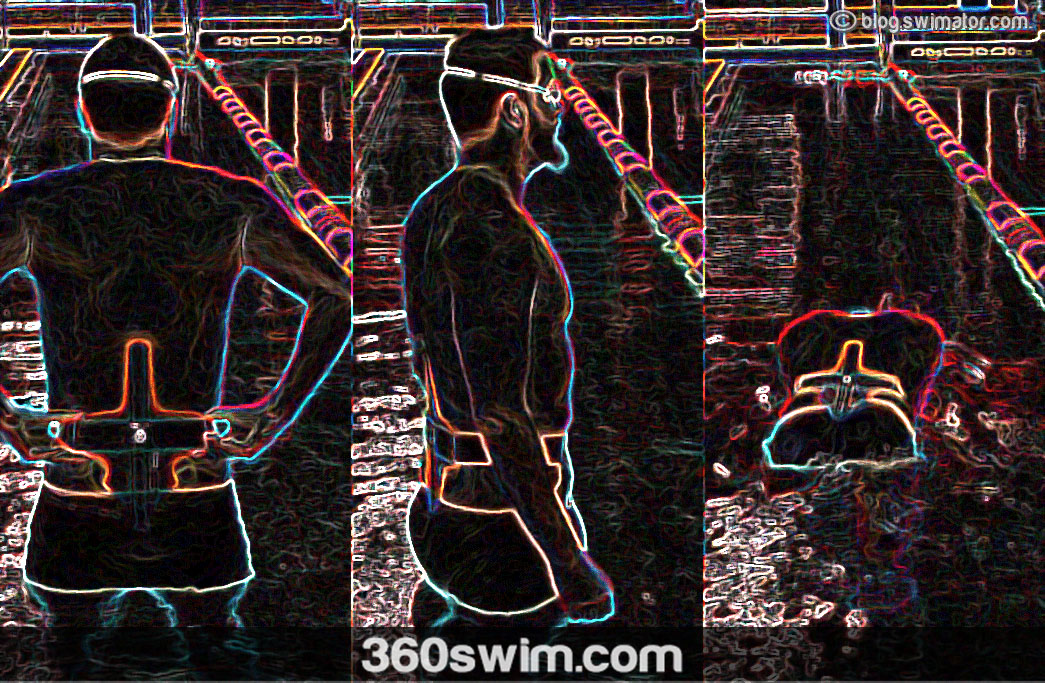 Sample Corsuit workouts
Here is a shortlist of swimming sets you could incorporate into your Corsuit training to get the most use out of the tool.
8x100 free (20 sec rest - just enough to get it off and on)

odd - with Corsuit (at your own speed while you maintain good body position)
even - without (mimic the correct posture)

4x200 free (same as before - you can change the distance as you'd like)
6x25 free sprints with Corsuit - focus on the flat hips (long rest - 3-4 mins)
 6x25 free without Corsuit - don't be afraid to dive, the Corsuit will not hinder you a bit.
 8x25 fly with Corsuit (20 sec rest) cycle between

head under water (no breath stroke),
only goggles out (no breath stroke)
breath close to surface
4x25 fly without Corsuit
These are just examples to get you started. Be creative and make your own sets.
If you have one in particular that you like, please do share it below in the comments, so others can also benefit from it.
In addition to swimming workout routines, since the Corsuit is worn around your waist, it can totally be used in a gym during your core body workouts to keep your posture true even when out of the pool.
So in summary, I have to give this product big thumbs up.
It is unique in its own way and it tries to address one of the biggest challenges of improving in swimming which is the lack of real-time feedback.
When you have a coach on the pool deck, you get some initial instruction and then you are left alone to execute it, then after a bit, you might get more instruction etc. etc.
This is a very slow process.
If you have a tool with you that is constantly giving you tactile impulses that tell you if you are doing something right or wrong, it is priceless.
Of course, I am not insinuating that the Corsuit replaces your coach :), but it is a big plus to have the ability to adjust your stroke while you swim.
To learn more about the Corsuit, check out this user guide which also has some useful drills to practice your body alignment.