After a short break, I am back with some highlights from the Swimator Blog archives for 2011.
What swimming tips did you find the most interesting in 2011? That is the question.
Below is a short list of the top 10 Swimator Blog swimming tips:
1) As traditionally, our novice and beginner swimmers are taking over with the two part beginner tips series on floating and standing up from floating tips and on relaxation and elementary body position tips.
2) Many visitors also wanted to know more about the proper body position in swimming and how to be more efficient in the water.
Without mastering this concept, you might as well swim against the current.
3) Swimming faster is an elusive reality for many swimmers, so no wonder everyone wants to know how to do it.
However, swimming faster is about stroke technique improvements, not being a yard/meter junkie, so be patient and master the basics first and always come back to them.
4) Among the popular topics on Swimator Blog is also a brief freestyle video analysis.
One step in the learning to swim process is the ability to recognize issues in someone else's stroke, so knowing how to pick out the top freestyle stroke flaws brings you one step closer to your swimming success.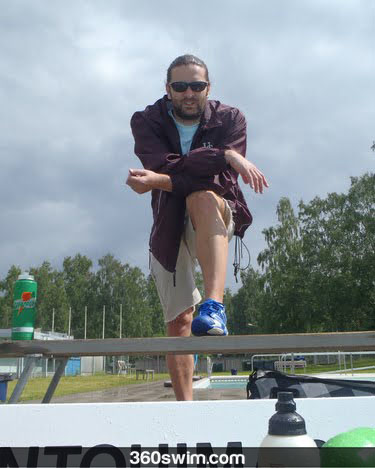 5) Getting water up the nose is an ongoing problem for many novice swimmers.
Some swimmers master it from the start without even thinking about it, for some it is an unbeatable challenge.
The two part series on how to stop water from entering your nose teaches you about the connection between the mouth and nose and how to close it and the more advanced human nose clip technique.
Say no to choking on water :).
6) Ahh, the legs and the kick.
This continues to be a pitfall for many triathletes and beginner swimmers.
You should learn what to do with your body when your legs sink and how to improve your kick with special kicking workouts.
7) Swimator Blog has also avid breaststroke enthusiasts who are keen to learn more about the complex breaststroke arm movements, to conquer the even more difficult breaststroke kick and to recognize the top breaststroke flaws.
8) Finally, many swimmers and coaches are starting to focus more on the "if this than that" approach, than just blindly swimming laps.
Swimator Blog's article on the effect of streamlining and better technique on the drag forces is also among the top 10, so that is exciting.
9) Along the same thinking as above, knowing what your freestyle swimming type is can help you determine what drills and workouts are the most beneficial for you.
Do you know which freestyle type you are?
10) Not everyone is as comfortable in water as the most of us.
And it appears it is actually more people than we might think, so no wonder that our novice swimmers or concerned parents found the "what should I do when I am drowning" article useful.
Bonus: To improve your swimming even more, join our 360swim Facebook or Twitter @360swim communities where we have daily posts of useful swimming tips, swimming advice, swimming trivia, swim workouts and many more.
There you have it.
The most popular swimming tips from Swimator Blog for 2011.
Happy belated New Year to everyone and don't be afraid of 2012, for what we know, the end of the world prediction was just a clerical error :).